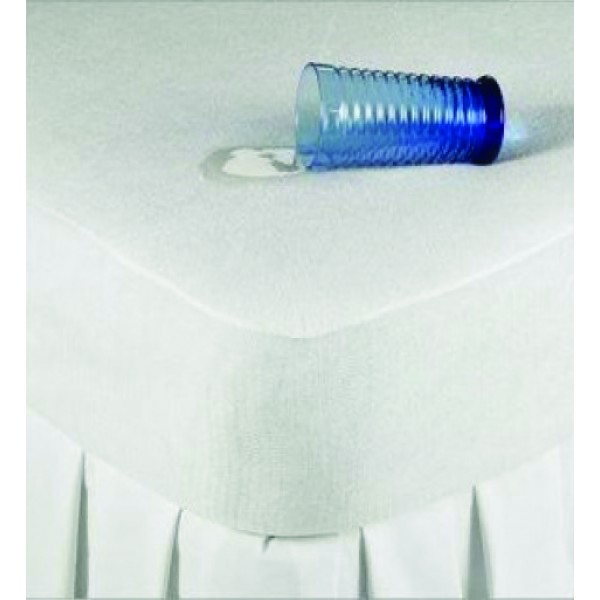 Kylie® Waterproof Breathable Mattress Protectors
Soft, Comfortable, Waterproof Premium Quality 100% Cotton Fleece Topping
Kylie® Waterproof Breathable Mattress Protectors fit over your mattress like a fitted sheet, with elasticated skirt.
They are topped with an extremely soft and comfortable 100% brushed cotton, the waterproof layer is soft and breathable Polyurethane.
Kylie® Mattress Protectors are fully waterproof, breathable and finished with soft cotton on one side and an impervious waterproof, breathable polyurethane membrane on the other.
The protector is fitted like a fitted sheet directly onto the mattress. The soft polyester skirt is elasticated to ensure a good fit and to prevent the mattress protector from coming off the bed.
The bed sheet then goes over the top. Because of the soft top layer you will hardly notice that the protector is there. As it's fully waterproof, the protector will prolong the life of the mattress and be a very useful thing to have should any liquid be spilled onto the bed.
Mattress Protector for Bedwetting
Whether there is someone in your house that wets the bed regularly, or as a precaution against the occasional accident, the Kylie® Waterproof Mattress Protector can really help. It is the most discreet way to offer protection as the sheet can't be seen under the bed sheet, and is comfortable and silent to sleep on.
This product is not specifically for bed wetters, but can be used on any bed in house to help keep your mattresses hygienic and comfortable.
If anybody in your house is wearing incontinence products to bed then it's essential to have some kind of waterproof bed protection as even the best incontinence products will leak at some point.
Mattress Protector For Allergies
The impermeable membrane will also benefit allergy sufferers as dust from inside the mattress can't cross the mattress protector.
Kylie® Waterproof Mattress Protectors are available in the following sizes:
Single
Double
King Size
Super King Size
Key Features
Washable
Waterproof Mattress protection
100% breathable cotton top with stretchable polyester skirt
Breathable PU laminate
Product Table
| | |
| --- | --- |
| Size | Dimensions |
| Single Bed | 90mm x 190mm |
| Double Bed | 140mm x 190mm |
| King Size Bed | 150mm x 200mm |
| Super King Size Bed | 183mm x 200mm |
Orders over £100 get FREE delivery*.
Next working day delivery as standard!**
Orders below £100 are charged a flat rate of £5.99.*
*Remote areas, Scottish Highlands, Islands + offshore, Northern Ireland or the Republic of Ireland different rates apply - click here for rates
**We usually dispatch orders received before 1 pm on a working day on the same day where possible for next working day delivery. We can't guarantee next day delivery but your order will always be dispatched on a next day service. In rare cases we may be out of stock so your order could take a little longer to arrive. If your order is urgently required next day please call us to check stock on 0115 9786 111
In Simple Terms:
Some of our products are VAT exempt when a person is eligible or buying on behalf of an eligible person.
An eligible person is someone that has a condition or disability that requires the use of the products you are buying.
When a product is VAT exempt there will be a symbol shown on the description page.
All prices are quoted excluding VAT for exempt products. For VAT qualifying products (products that are not exempt) the price quoted contains the VAT.
If you are not eligible or don't fill out the declaration to say that you are eligible, you will be charged VAT at the checkout.
Companies are always required to pay VAT so don't make the declaration if you are a company.
If you are not eligible or not buying on behalf of an eligible person, you must pay VAT. It is an offence to make a false declaration.
Government Guidance:
The guidance for qualifying customers and VAT exempt products is contained in Notice 701/7 VAT Relief for disabled people Published August 2002
Medical and Incontinence Mail Order Returns Policy - July 2015
We want all of our customers to have a great experience when buying from us. Ending up with the wrong product is frustrating so we have a clear and easy to follow returns policy.
No hassle returns
We understand that there will be times when you need to return products. You can return anything you have bought for a full refund if:
We are not required to accept returns for medical products or underwear where the packaging has been opened. This is for common sense hygiene reasons and is covered by the Consumer Contracts Regulations 2013
Products received without a returns form may not be refunded as we need to be able to match your returned product with your original order to make the refund.
The buyer must pay the cost of returning the goods. Please choose a trusted courier using a recorded delivery service to ensure that the goods are received.
Please note
For hygiene reasons we can't accept returns for medical or incontinence products where the pack has been opened. Please do not return washable incontinence underwear where the packaging has been opened.
Exchanges
Have you ordered the wrong size or wrong product? As long as the original products are un-opened and in re-saleable condition we will happily refund you according to the criteria in the No hassle returns section.
The fastest way to do an exchange is to simply place a new order for the correct product, return the goods you want to exchange and wait for your refund to be processed through the normal procedure.
What if our warehouse made an error?
We work very hard to ensure that you receive the correct products in good condition, but errors can happen. If our warehouse has made an error and sent the wrong goods please call or email us immediately so that we can arrange replacements.
Refunds
After we receive your un-opened products and returns form, we will process a refund to your original payment account. Please allow up to 14 days to see the money in your account.
Questions?
If you aren't clear about whether you can return a product or not, or would like some help starting your return, please call or email us and we'd be happy to help.
To download a returns form please click here
Kylie Mattress Protector | Waterproof