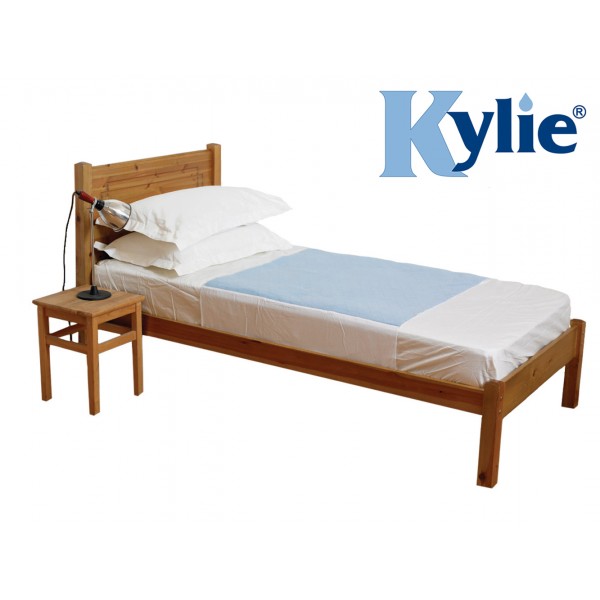 Kylie® Bed Pads (Kylie® Sheets)
The best selling washable bed pads in the UK!
To fit beds from a toddler size to King Size
Available in Pink or Blue
Kylie® is the original washable absorbent bed pad. It's so popular that often people use the name "Kylie® sheets" and term "Washable bed pad" interchangeably. Kylie® Sheets and Kylie® Bed Pads are the same thing and refer to washable absorbent bed pads.
But not all washable absorbent bed pads are the same. The Kylie® bed pad is unique in the way that it's made. The intention is to move moisture away from the skin as quickly as possible, and not to let the moisture stay against the skin.
Skin that is in close contact with urine can degrade, causing rashes and infections. Kylie® Bed Pads draw the moisture deep inside and don't let it stay on the skin. This will mean the user has a good undisturbed night of sleep, and in the morning, the pad can be removed and laundered without laundering the rest of the bed sheets.


Why Use a Kylie®?
Having a Kylie® on the bed will reduce time in stripping the bed off and washing the sheets. The pad has tuck in flaps to keep it in place on the mattress. For users that are likely to wet the bed every night, you can use the Kylie pad right on top of the sheet. For people that have a wet bed less often, you can place the Kylie® pad under the sheet.


Kylie® Pads For Bedwetting
Kylie® washable absorbent bed sheets are often a better choice than body worn products (nappies or pull-up pants) for bedwetting. Especially where children are involved. They might be self conscious about other products, but the Kylie® Bed Pad can be placed over the sheets, is comfortable to sleep on and offers excellent incontinence protection.
For parents, Kylie® pads can be very useful, as if the pad is wet during the night it can be removed and replaced with another. This causes minimum disruption and lets your child get back to sleep as soon as possible.
Kylie® Sheets in Care Homes
Talk to almost any nurse or carer in a care home and they will tell you that they use washable bed protection on the beds of their residents. Again, the care staff are often busy and using washable absorbent bed pads will save them a lot of time.
The costs are also controlled as you can wash the Kylie® bed pad in a washing machine at 95°C at least 300 times. Compare that to the cost of disposable pads and you will see a clear cost saving. Not only that but disposable pads don't offer the same level of absorbency as a Kylie® pad. The most absorbent Kylie® contains up to 5 litres of liquid, far more than any disposable pad.


Key Features
Soft but absorbent front sheet
Waterproof backing
Can be used on a bed or other soft furnishings
Washable up to 300 times
Available in 5 sizes
Generous mattress tucks on each side (50 cm)
1 Pad Per Pack


Washing Instructions
Washable at up to 95°C
Tumble dry on a low to medium heat
Do not use bleach
Do not use fabric conditioner
Do not dry clean
Kylie® Bed Pads are softer and more absorbent after the first wash


Size Guide
If you plan to use a Kylie® on a hospital bed, the dimensions are approximately the same as a single bed
| | | | |
| --- | --- | --- | --- |
| Product | Absorbency (Litres) | Size | Bed Size |
| Kylie 1 | 1 | 74 x 50 cm | Junior Bed |
| Kylie 2 | 2 | 91 x 74 cm | Adult Single Bed |
| Kylie 3 | 3 | 91 x 91 cm | Adult Single Bed |
| Kylie 4 | 4 | 139 x 91 cm | Double Bed |
| Kylie 5 | 5 | 150 x 100 cm | King Size Bed |
Washing Instructions
Washable at up to 95°C
Tumble dry on low
Do not use bleach
Do not use fabric conditioner
Do not dry clean
Kylie® Bed Pads are softer and more absorbent after the first wash
Kylie® Bed Pad Size Guide
All Kylie® Bed Pads have a 50cm mattress tuck sewn on to the left and right side of the pad to allow you to tuck under the mattress and hold the bed pad in place.
| | | | |
| --- | --- | --- | --- |
| Bed Size | Pad Absorbency | Width (left to right of bed) | Length (head to foot of bed) |
| Junior Bed | 1 Litre | 74cm | 50cm |
| Adult Single | 2 Litres | 91cm | 74cm |
| Adult Single | 3 Litres | 91cm | 91cm |
| Double | 4 Litres | 139cm | 91cm |
| King Size | 5 Litres | 150cm | 91cm |
Orders over £100 get FREE delivery*.
Next working day delivery as standard!**
Orders below £100 are charged a flat rate of £5.99.*
*Remote areas, Scottish Highlands, Islands + offshore, Northern Ireland or the Republic of Ireland different rates apply - click here for rates
**We usually dispatch orders received before 1 pm on a working day on the same day where possible for next working day delivery. We can't guarantee next day delivery but your order will always be dispatched on a next day service. In rare cases we may be out of stock so your order could take a little longer to arrive. If your order is urgently required next day please call us to check stock on 0115 9786 111
In Simple Terms:
Some of our products are VAT exempt when a person is eligible or buying on behalf of an eligible person.
An eligible person is someone that has a condition or disability that requires the use of the products you are buying.
When a product is VAT exempt there will be a symbol shown on the description page.
All prices are quoted excluding VAT for exempt products. For VAT qualifying products (products that are not exempt) the price quoted contains the VAT.
If you are not eligible or don't fill out the declaration to say that you are eligible, you will be charged VAT at the checkout.
Companies are always required to pay VAT so don't make the declaration if you are a company.
If you are not eligible or not buying on behalf of an eligible person, you must pay VAT. It is an offence to make a false declaration.
Government Guidance:
The guidance for qualifying customers and VAT exempt products is contained in Notice 701/7 VAT Relief for disabled people Published August 2002
Medical and Incontinence Mail Order Returns Policy - July 2015
We want all of our customers to have a great experience when buying from us. Ending up with the wrong product is frustrating so we have a clear and easy to follow returns policy.
No hassle returns
We understand that there will be times when you need to return products. You can return anything you have bought for a full refund if:
We are not required to accept returns for medical products or underwear where the packaging has been opened. This is for common sense hygiene reasons and is covered by the Consumer Contracts Regulations 2013
Products received without a returns form may not be refunded as we need to be able to match your returned product with your original order to make the refund.
The buyer must pay the cost of returning the goods. Please choose a trusted courier using a recorded delivery service to ensure that the goods are received.
Please note
For hygiene reasons we can't accept returns for medical or incontinence products where the pack has been opened. Please do not return washable incontinence underwear where the packaging has been opened.
Exchanges
Have you ordered the wrong size or wrong product? As long as the original products are un-opened and in re-saleable condition we will happily refund you according to the criteria in the No hassle returns section.
The fastest way to do an exchange is to simply place a new order for the correct product, return the goods you want to exchange and wait for your refund to be processed through the normal procedure.
What if our warehouse made an error?
We work very hard to ensure that you receive the correct products in good condition, but errors can happen. If our warehouse has made an error and sent the wrong goods please call or email us immediately so that we can arrange replacements.
Refunds
After we receive your un-opened products and returns form, we will process a refund to your original payment account. Please allow up to 14 days to see the money in your account.
Questions?
If you aren't clear about whether you can return a product or not, or would like some help starting your return, please call or email us and we'd be happy to help.
To download a returns form please click here
Kylie® Bed Pads | Absorbent Incontinence Sheets