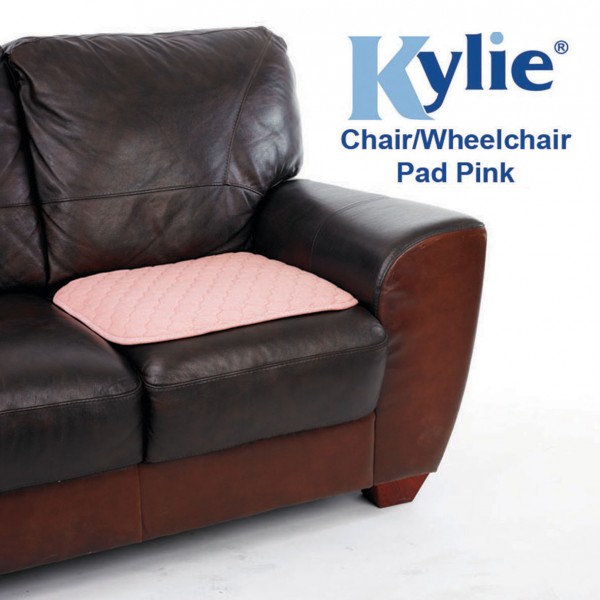 Kylie® Chair Pads
Washable Absorbent Chair Pads
Kylie® Chair Pads – Protecting Car Seats, Sofas and Wheelchairs
Kylie® chair pads are based on the same 5 layer absorbency system as the Kylie® Bed Pads, the best selling washable bed protection product in the UK.
The means you can have the same level of absorbent waterproof protection for your chairs as well as beds.
Who Uses Kylie® Chair Pads?
Our pads are very popular with wheelchair users. The non slip backing makes the pad ideal to line a wheelchair, and the absorbent material will keep your expensive wheelchair clean and dry for years to come.
We have sold thousands of Kylie® Chair Pads to local authorities for use in car share schemes for elderly people, as well as care homes to keep their resident's lounges hygienic and comfortable.
If you wear incontinence products, you can also use them in your own home to protect your soft furnishings. As good as any incontinence product, they are still likely to leak at some point.
Kylie® Chair Pads are available in Pink or Blue and measure 50 x 50cm.
Kylie® Chair Pads are specially designed to look and feel like a regular seat cover
Made from superior stay-dry materials, the chair pads stay in position due to the waterproof non-slip backing
Suitable for use on wheelchairs
Soft quilted stay-dry layer with absorbent core
Portable and discreet
Suitable for use on public transport, e.g. trains and taxis
The chair pads are reusable and washable
Absorbency indicates approximate fluid capacity of the pad
Absorbency: 1 Litre (approx)
Available Colours: Pink, Blue, Black
Washing Instructions
Machine Wash at up to 95°C
Do NOT use Bleach
Do NOT use Fabric Conditioner
Do NOT Iron
Do NOT Dry Clean
Tumble Dry on Low Heat
Do not expose pad to direct heat i.e drying over a radiator
Orders over £100 get FREE delivery*.
Next working day delivery as standard!**
Orders below £100 are charged a flat rate of £5.99.*
*Remote areas, Scottish Highlands, Islands + offshore, Northern Ireland or the Republic of Ireland different rates apply - click here for rates
**We usually dispatch orders received before 1 pm on a working day on the same day where possible for next working day delivery. We can't guarantee next day delivery but your order will always be dispatched on a next day service. In rare cases we may be out of stock so your order could take a little longer to arrive. If your order is urgently required next day please call us to check stock on 0115 9786 111
In Simple Terms:
Some of our products are VAT exempt when a person is eligible or buying on behalf of an eligible person.
An eligible person is someone that has a condition or disability that requires the use of the products you are buying.
When a product is VAT exempt there will be a symbol shown on the description page.
All prices are quoted excluding VAT for exempt products. For VAT qualifying products (products that are not exempt) the price quoted contains the VAT.
If you are not eligible or don't fill out the declaration to say that you are eligible, you will be charged VAT at the checkout.
Companies are always required to pay VAT so don't make the declaration if you are a company.
If you are not eligible or not buying on behalf of an eligible person, you must pay VAT. It is an offence to make a false declaration.
Government Guidance:
The guidance for qualifying customers and VAT exempt products is contained in Notice 701/7 VAT Relief for disabled people Published August 2002
Medical and Incontinence Mail Order Returns Policy - July 2015
We want all of our customers to have a great experience when buying from us. Ending up with the wrong product is frustrating so we have a clear and easy to follow returns policy.
No hassle returns
We understand that there will be times when you need to return products. You can return anything you have bought for a full refund if:
We are not required to accept returns for medical products or underwear where the packaging has been opened. This is for common sense hygiene reasons and is covered by the Consumer Contracts Regulations 2013
Products received without a returns form may not be refunded as we need to be able to match your returned product with your original order to make the refund.
The buyer must pay the cost of returning the goods. Please choose a trusted courier using a recorded delivery service to ensure that the goods are received.
Please note
For hygiene reasons we can't accept returns for medical or incontinence products where the pack has been opened. Please do not return washable incontinence underwear where the packaging has been opened.
Exchanges
Have you ordered the wrong size or wrong product? As long as the original products are un-opened and in re-saleable condition we will happily refund you according to the criteria in the No hassle returns section.
The fastest way to do an exchange is to simply place a new order for the correct product, return the goods you want to exchange and wait for your refund to be processed through the normal procedure.
What if our warehouse made an error?
We work very hard to ensure that you receive the correct products in good condition, but errors can happen. If our warehouse has made an error and sent the wrong goods please call or email us immediately so that we can arrange replacements.
Refunds
After we receive your un-opened products and returns form, we will process a refund to your original payment account. Please allow up to 14 days to see the money in your account.
Questions?
If you aren't clear about whether you can return a product or not, or would like some help starting your return, please call or email us and we'd be happy to help.
To download a returns form please click here
Kylie® Chair Pads | Pink, Blue or Black